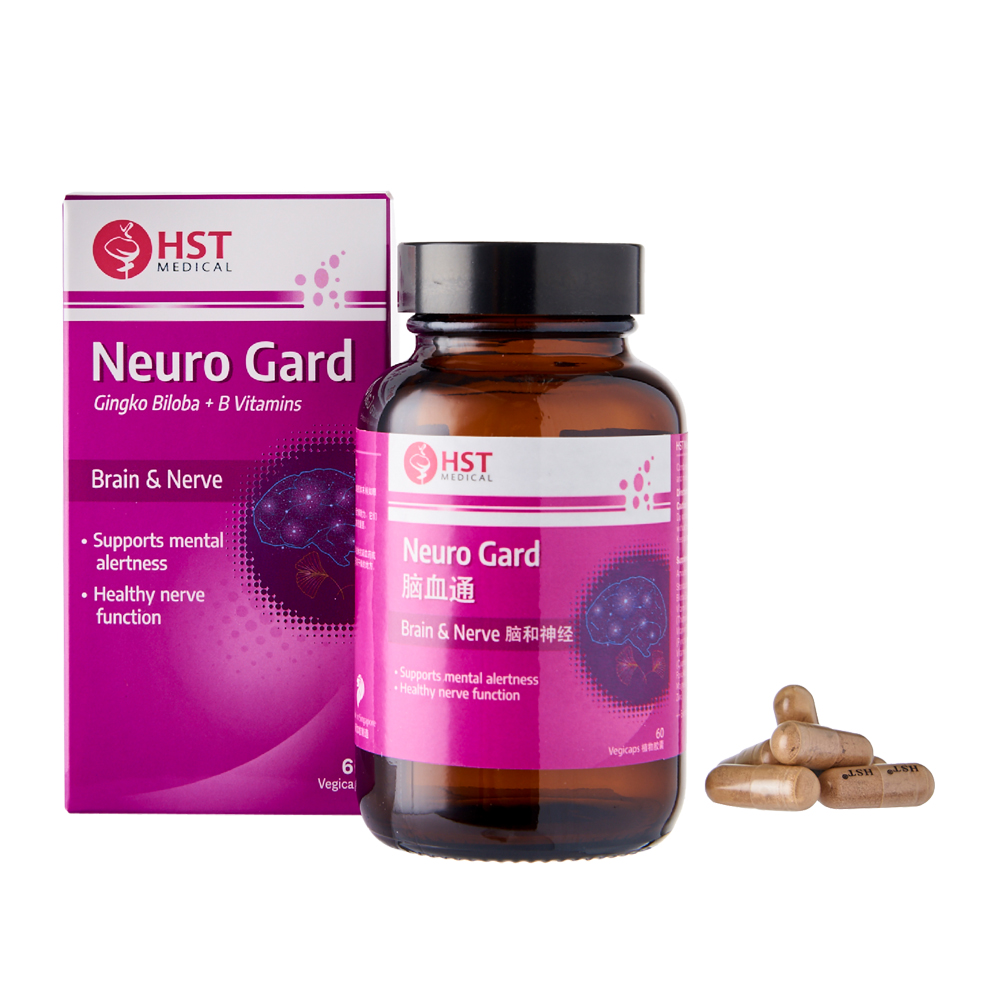 A one-time price of
SGD $62.50
will be added to your order.
Description
Specifications
Brand: HST Medical®
Available in two different packaging

Single Pack - 60 Capsules / bottle
Twin Pack - 60 Capsules x 2 bottles

Manufactured in USA
GMP certified
100% Vegan
* Please refer to the [SPECIFICATIONS] section for a detailed list of ingredients and directions for use.
HST Medical® Neuro Gard combines a standardized extract of ginkgo biloba with essential B vitamins and minerals to improve micro-circulation at the target sites, supporting mental alertness and healthy nerve functions.
[BENEFITS]
Ginkgo Biloba helps to improve blood circulation to the brain and to peripheral areas of the body namely the eyes, hands and feet
Vitamins B1, B6, B12, magnesium and zinc release energy from food to support vitality and stamina. They aid the nervous system to transmit information to and from the brain, and are important for healthy muscle and nerve functions.
[SUPPLEMENT FACTS]
Serving Size: Per Vegicap
Standardised Ginkgo Biloba Extract* – 200mg
Vitamin B1 (Thiamine Hydrochloride) – 25mg
Vitamin B6 (Pyridoxine Hydrochloride) – 25mg
Vitamin B12 (Cyanocobalamin) – 75mcg
Folic Acid – 0.9mg
Magnesium – 100mg
Zinc – 5mg
• Extract contains 24% ginkgo flavone glycosides, 6% terpene lactones
[DIRECTIONS]
Take 1 vegicap in the morning after meals.
[CAUTION]
Please consult a physician if you are pregnant or breastfeeding.
Store in a cool, dry place away from heat and light.
Keep out of reach from children.