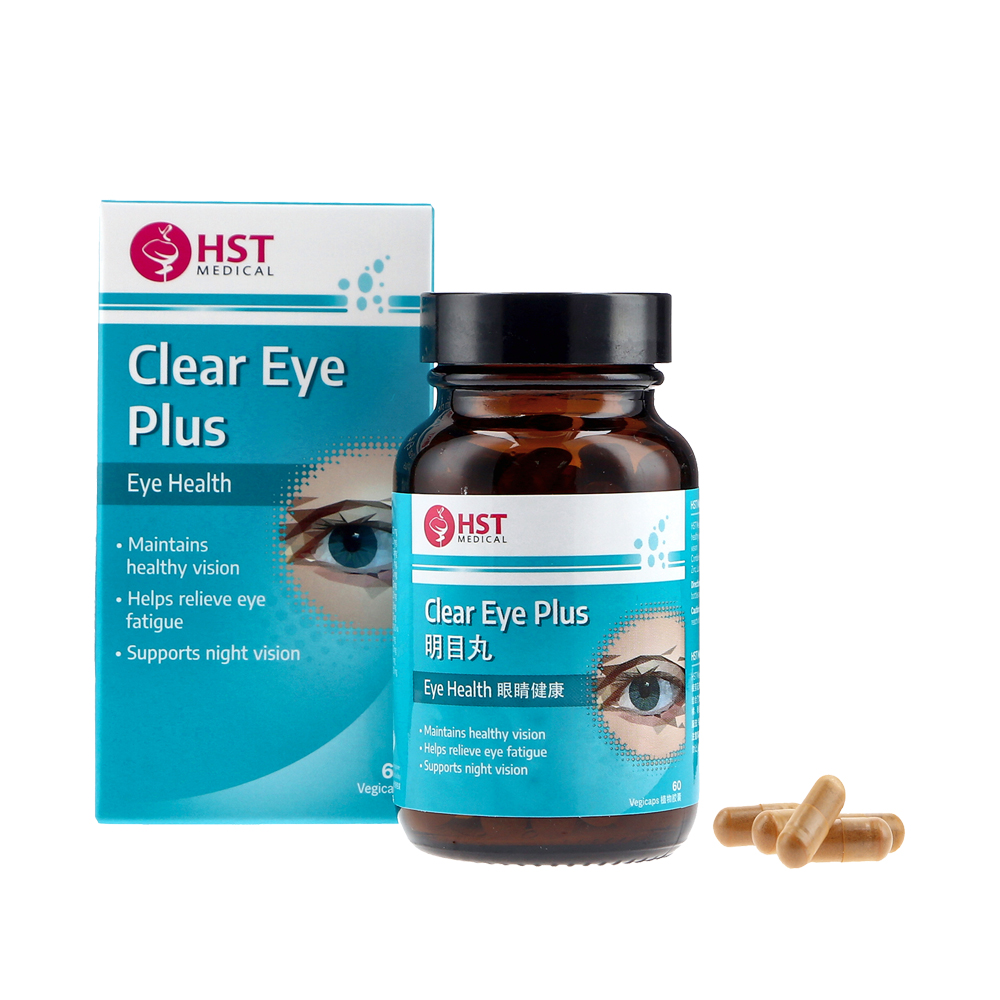 A one-time price of
SGD $52.50
will be added to your order.
Description
Specifications
Brand: HST Medical®
Available in two different packaging

Single Pack - 60 Capsules / bottle
Twin Pack - 60 Capsules x 2 bottles

GMP certified
100% vegan
Contains Lutein + Bilberry + Zeaxanthin to support vision health
* Please refer to the [SPECIFICATIONS] section for a detailed list of ingredients and directions for use.
In traditional Chinese medicine, blurred vision, dry eyes and night blindness are linked to an imbalanced liver system.
Clear Eye Plus is a synergistic formula combining premium Chinese herbs with phytonutrients, Vitamin A and Zinc to nourish and protect vital organs of the eyes, liver and kidneys.
Highly recommended for busy workers and gamers who experience eye strain, dryness, redness and blurred vision from prolonged digital screen time on laptop, tablets and smart phones.
[BENEFITS]
Promotes eye health and clear vision
Reduces eye strain, dryness
Improves night vision
Protects eyes from harmful UV light rays
[HERBS & FUNCTIONS]
DENDROBIUM, WOLFBERRY FRUIT, REHMANNIA
Nourishes blood, liver and kidney systems to reduce eye strain, dryness and redness.
CHRYSANTHEMUM FLOWER, CASSIA SEED, TRIBULUS FRUIT, PIPEWORT FLOWER
Detoxifies the liver to promote clear and sharp vision
CAPE JASMINE FRUIT, GENTIAN ROOT
Dissipates excess heat to reduce inflammation and allergies
LUTEIN, ZEAXANTHIN, BILBERRY
Natural plant carotenoid and anthocyanin promote ocular health and reduce progression of age-related eye and vision problems
VITAMIN A, ZINC
Essential vitamin-mineral combination to protect eyes from UV light damage
[SUPPLEMENT FACTS]
Each vegicap contains:
Herba Dendrobii – 162mg
Fructus Lycii – 60mg
Radix Rehmanniae – 105mg
Flos Chrysanthemi – 60mg
Semen Cassiae – 80mg
Fructus Tribuli – 32mg
Flos Eriocauli – 32mg
Fructus Gardeniae – 32mg
Radix Gentianae – 32mg
Vitamin A (Beta Carotene) – 1000iu
Zinc Oxide (providing Zinc 4mg) – 5mg
Lutein – 10mg
Zeaxanthin – 1mg
Bilberry Extract – 20mg
[DIRECTIONS]
1 capsule to be taken twice daily with warm water. 3 bottles are recommended for each course of treatment.