Rheuma-Salve Medicated Balm Value Pack (50g x 6)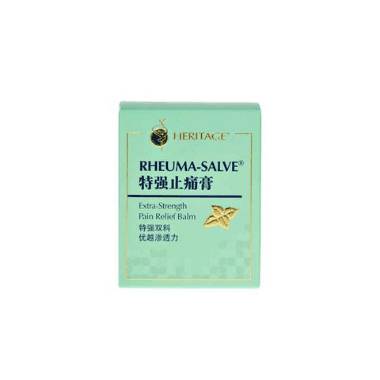 Rheuma-Salve® is our range of pain relief products, which includes the popular Rheuma-Salve Pain Relief Palm, Liniment, Crème, and Patch. Great for gifts, and for our own use. The Rheuma-Salve® range of products are popular for tourists buying "Made In Singapore" signature gifts and souvenirs.
Benefits:
Formulated for superior penetration and efficacy, Rheuma-Salve pain relief balm provides rapid relief from joint pains, muscle aches and promotes blood circulation. Rheuma-Salve is manufactured with a proprietary blend of premium European essential oils and pharmaceutical-grade ingredients. Read about menthol, wintergreen, and camphor.

Features:
Treats painful and aching joints.
Releases sore and tight muscles.
Relieves sprains and strains.
Clears respiratory congestion.
Ingredients:
Menthol
Peppermint Oil
Wintergreen
Camphor
Eucalyptus Oil